Andrew Shearer : Aquillo : 12 Truths

"A Cracking Singer/songwriter"
As I said before I was very flattered to be asked to support Aquillo and 12 Truths at their gig on Tuesday 1st May. I was even more flattered when I went to Aquillo's website yesterday and discovered they had put a link to this website with the recommendation: "a cracking singer/songwriter". High praise indeed from these two exceptional musician s (you can see how exceptional by reading their website Aquillo and going to see them play).
Of course, Aquillo put in a great performance last night - it goes without saying. It was the first time of seeing Mark Stratton's band 12 Truths. I know I'm not the guy to pass judgement on anybody's voice but even I could tell he was spot on; really exceptional, particualrly on the Stranglers and Crowded House covers.
I think my set was okay. It seemed to be fairly high energy and I seemed to hold the audience's attention but that could always be for bad reasons as well as good! I guess I'd prefer a bit more banter and interaction but I didn't feel it would've worked last night somehow, so I just got on with it. It was a big boost when one of the audience asked if I had a CD - always nice to be asked, you feel like you've made an impression somehow.
Big thanks to Luke Paulo for coming along, showing support and taking the pictures below.
My Set: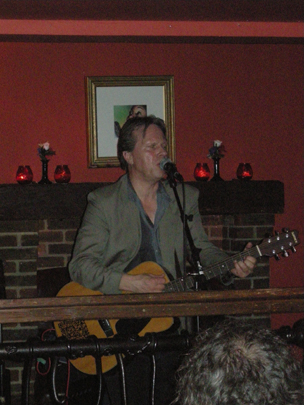 Finding Joe
Don't forget the screening of the film about the work of Joseph Campbell, Finding Joe, hosted by Stand-Up Cinema at Reading's The Rising Sun Arts Centre on May 18th at 6:30pm. The start time is early so that the film will end by 8:00pm and not conflict with Bohemian Night Showcase.
Campbell said the following in the last lecture he ever gave:
"In my writing and my thinking and my work I've thought of myself as addressing artists and poets and writers. The rest of the world can take it or leave it as far as I'm concerned."
So if you're an artist, writer, musician , or just someone wanting to break out and go their own way, or even actually dare I say, a Star Wars fan (George Lucas based his original films' stories on Campbell's work), then I think you might find the film interesting and indeed I hope encouraging. Next week I hope to pull together all of this site's reference's to the film and explain why I found it meaningful. I don't expect it to be everybody's cup of tea but if it helps encourage one person along the way to achieving what they want to in their life I think my job will have at least been partly accomplished.