Boho in the Country open-mic hosted by Rob Sowden

"First Blood"
It's interesting how venues can change from one night to the other. On previous occassions the Greyhound has been busy but not rowdy as it was last night. I suspect it may have something to do with the landlord's delight in his football team, Reading, being promoted to the Premiere League. Anyway, due to the rowdiness, I changed my intended set (you see? I can do that now!) but as there is some determinationon on my part to slay that dragon, that bete noire of mine called Can't Let Go over the next three open-mics, that song was going to be played whatever the circumstances. It wasn't the most elegant of performances (imagine more bar-brawl than Bruce Lee efficiency) but I do believe that first blood is mine.
My set:
Rhu Bar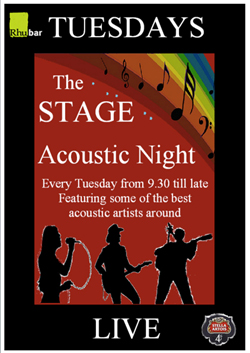 I'm very flattered to be asked to support Aquillo and 12 Truths at their gig at The Rhu Bar next Tuesday 1st May. I will be opening the evening up at 10:00pm.
(Rhu Bar, 21 London Street, Basingstoke, RG21 7NT)
Finding Joe
Don't forget the screening of the film about the work of Joseph Campbell, Finding Joe, hosted by Stand-Up Cinema at Reading's The Rising Sun Arts Centre on May 18th at 6:30pm. The start time is early so that the film will end by 8:00pm and not conflict with Bohemian Night Showcase.
Campbell said the following in the last lecture he ever gave:
"In my writing and my thinking and my work I've thought of myself as addressing artists and poets and writers. The rest of the world can take it or leave it as far as I'm concerned."
So if you're an artist, writer, musician , or just someone wanting to break out and go their own way, or even actually dare I say, a Star Wars fan (George Lucas based his original films' stories on Campbell's work), then I think you might find the film interesting and indeed I hope encouraging. Next week I hope to pull together all of this site's reference's to the film and explain why I found it meaningful. I don't expect it to be everybody's cup of tea but if it helps encourage one person along the way to achieving what they want to in their life I think my job will have at least been partly accomplished.