Bohemian Night open-mic hosted by Rob Sowden

"Where's the Onus?"
For reasons I'll go into some other time on Wednesday night I wanted to play two of my darker, less cheerful songs. However as I have a blocked right ear and as I was roped into mixing duties again for the evening I wasn't sure that I would play. As it happens I decided to play right at the end of the evening, to a grand total of three, sat in front of me. Singing these songs to just a few people did feel a bit awkward but I had other things to contend with as with my blocked ear sounded to me like I was singing through my nose and I had all sorts of strange resonances in my head. Yeah, I know, "You always sound like that to us Andrew", I hear you (through one ear) cry.
I was a bit bemused by the joviality and hand and foot-tapping of one audience member as I got into They're Going To Get You. A few moments later I was very amused when rigor-mortis seemed to set into him when I assume he realised what the song was about. I haven't quite mastered the knack of finding things amusing, maintaining a solemn face and remembering lyrics and thus a couple of verses got repeated.
Strangely I felt my performance went well, though to be honest I just had to get on with it considering what I was perceiving what I sounded like. And actually that was the point of the experiment that I wanted to try originally and why I chose to play potentially my least likable songs: to be less concerned with people liking me on stage and more concerned about communicating. I see many "GREAT" performances at open-mics but sometimes the artists get upset when the audience doesn't seem to appreciate them. I could be wrong but I think it's because the onus has been on impressing rather than communicating (I know I feel I have been guilty of that.) However it could be just a question of my taste as the likes of Whitney Houston, Mariah Carey et al (extreme examples) have never really done it for me. I appreciate their skill and talent (but not necessarily like) but for me their grandstanding distracts from the message they are attempting to convey. It seems to be more about them and an attitude of "Hey, look at me!" rather than the song.
My Set:
Anniversary / Birthday Gig 11th December 2012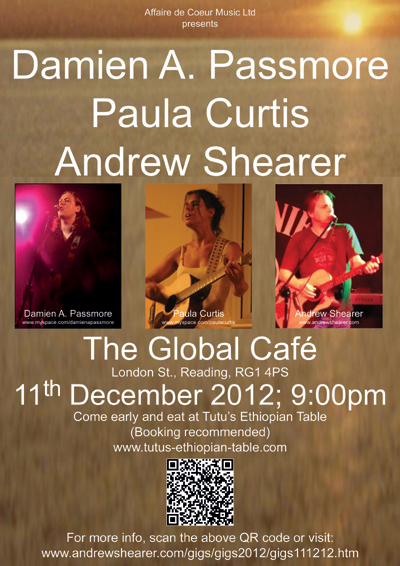 Don't forget the gig on 11th December. More details here.