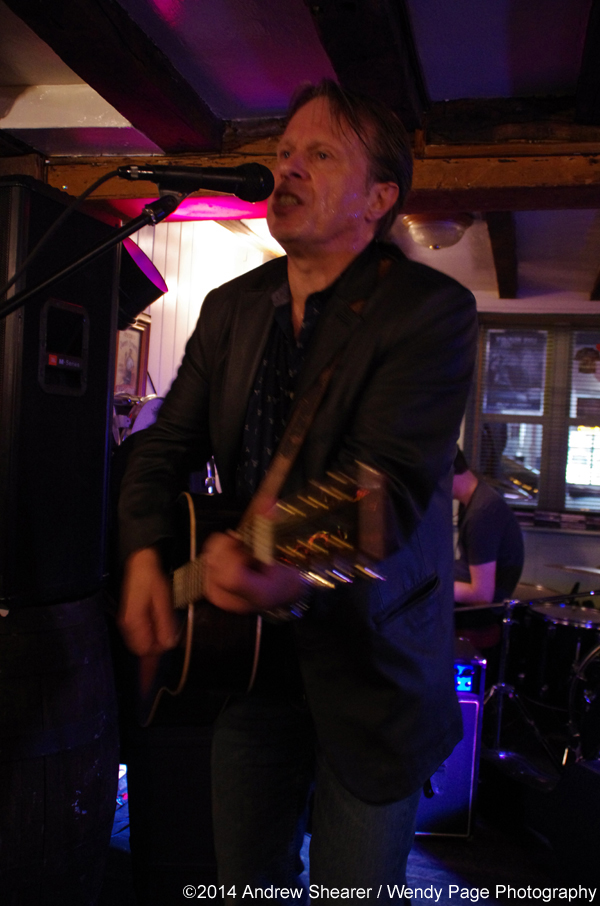 I'd heard good things about Ashley Miles's new band The Explorers but hadn't had chance to see them yet. So the plan was to kill two birds with one stone and see family in Newbury in the afternoon and then catch the gig later. As it turns out a band dropped out and Ashley asked if I'd open the night. I was a bit unsure as I was under-rehearsed - my first gig after not playing since April was meant to be next Wednesday at the Butler but I said yes. So out the window the attempts to see the family went.


All things considered I don't think my opening slot went too badly considering I was largely distracted by the sound of my guitar. Erratically the bass would be really boomy through my monitor and then non-existent, and would sound out of tune even though the tuner said it was all okay. Having changed the strings, checked the battery and done maintenance on the guitar etc the night before I had hoped for a bit better. Having subsequently checked the guitar in my amp back at home it all seems okay, so I don't know what the problem was. Maybe my hearing is out or it was all in my head as I felt I was I reasonably well received in spite of what I considered to be the poor guitar sound. I guess the highlight of my performance for me was playing a new song, Bogus, which seemed to go down well. I think that's the first time one of my songs has been played publicly and written in the same year (same decade even?)

Second on were ADAM & ELVIS, who are doing a lot of gigs around London at the moment. I thought they were interesting, reminded me a little of Tubeway Army and Orchestral Maeouveres in the Dark, sort of 80s electro pop with a bit of edge - maybe "electro-new wave" is a better description.

I've been a fan of Ashley Miles since I saw his band Occupy in April and he's one of the best front men I've seen in a band. (Kind of makes The Joker seem sane.) THE EXPLORERS is Ashely's other band, a four piece with Ashley's brother Aaron on lead vocals and guitar, Ashley on guitar (now untethered as his guitar is linked by radio), Daniel Owen on bass and Giles Stelfox on drums. If I'm honest I've been less enthused about seeing these guys as they describe themselves as a mix of U2 and Big Country, two bands that due to my personal taste I wouldn't make a great deal of effort to see. Ironically apart from a couple of covers of those bands' songs they didn't really remind me of either and I thought they were maybe closer to the harder-edged 60s bands like The Zombies or the harder stuff of The Monkees (Stepping Stone?). Suffice it to say however together they formed a great rock unit. I was particualrly impressed with Giles Stelfox's simultaneous dynamic drumming and singing. I think my only problem with the band is that for me they visually lack focus (I thought that about Adam & Elvis too). I always think the most successsful bands are formed like a triangle pointing outwards with the lead singer at the front. Of course, if we were in a court of law the defence would present The Beatles as evidence, so what the f**k do I know? Maybe again it's just a personal taste thing, but I do feel not to have Ashley as the front guy is a missed opportunity.


Thanks to Wendy Page Photography for the pictures.
Set List