Hi,
Okay so I disappeared for a while. Some may have suspected I'd been abducted by aliens, which didn't happen but as I'm a Reading resident and on discovering this YouTube footage it seems I had a lucky escape.




Of course I'm joking but the footage reminded me of when I was a teacher in the mid-nineties and I was on an outward-bound course with a group of pupils.

It was a clear warm June evening on the Breacon Beacons in Wales. Myself, a guide and a group of about six fourteen and fifteen year olds had just hiked up a beacon to camp there overnight. Once we had set up our tents we had sausages and beans, a well-deserved satisfyingly unhealthy meal following our exertions.

I went to sit on the edge of the beacon, overlooking southwest Wales whilst I left the kids to do the washing up (there were some advantages to being a teacher). It was a lovely spot to watch the sunset from; you could see for miles, even the sea glistening just beyond what I assumed was Swansea. There was a sense of calm in the air. The kids were great, joking around a bit but nothing untoward, just being kids. Our guide was doing some paperwork in his tent. Once a few of the children had finished their chores they came over and started chatting about the week's activities: rock climbing, canoeing, mountain walking, camping. Eventually the other pupils came over and joined us. We discussed how we were all enjoying the week, how lucky we'd been with the weather.

I can't remember who first saw the lights. There were about eight of them, grouped together in one area of the sky above the land before the sea, perhaps over Swansea. It was hard to judge distances but the distance between the furthermost left and right lights may have been a few miles and vertically they were perhaps at small aircraft height. They seemed to shine brighter and be slightly larger than stars, but perhaps not so much so that we would have noticed them if the stars had been out, but it was too early in the evening for the actual stars to be noticeable and the lights seemed to be too low to be stars.

The most memorable thing about the lights was how they appeared to move. Not some almost imperceptible gradual change in relation to each other or a mass movement across the sky, but an apparent darting, instantaneous, as if one light was going out and another immediately coming on within the area of sky which they didn't seem to move from. Sometimes one light would go off, without another coming on immediately, so perhaps they had travelled to somewhere where we weren't looking. Eventually another light would appear to make up the numbers, which didn't ever seem to exceed the original eight or so.

Almost twenty years on, we now have the advantages of the internet and I can actually show you the manner in which those lights behaved.




Up until that evening when I had heard of someone allegedly seeing a UFO, I've always been sceptical and imagined they were by themselves. But all six of us watched and discussed those lights and their apparent strange behaviour across the sky. It wasn't just in one person's imagination.

I think the most remarkable thing about that evening was our collective reaction. We treated it almost like an everyday occurrence, like watching another sunset. We were all intrigued but there was no rushing around, no wanting us to report it to the police, the army, the newspapers, no panicking with the 'War of the Worlds' fear of being invaded. It was even at the height of the popularity of the X-Files series on TV and I don't think anyone even made the connection between the two. Basically we just saw some very bright star-like lights low in the sky that appeared to move impossibly quickly. Even the guide wouldn't come and join us and just dismissed it, completely non-plussed, as army manoeuvres. Of course he may have been right, but the apparent instantaneous 'on and off' just seemed too choreographed to be random reflections of the evening sun off army craft.

We continued watching, until the lights all vanished simultaneously and didn't return. It was dusk by this time. We carried on talking until about 10 o'clock and then packed up and went to our tents. We had an early start in the morning to get back to the activity centre by lunchtime.

It was a strange experience, perhaps all the stranger for our lack of reaction. I'm not sure we spoke about it again. I can't even recall the kids telling their friends when we got back to the activity centre the next day. Perhaps we all just assumed it was something that could easily be explained.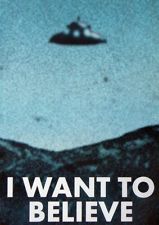 So I don't know if it was a UFO experience or not. In many ways as in that X-Files poster I want to believe but who knows. Anyway the long and short of it is that haven't been abducted by aliens or anyone else as far as I can remember, (though I am still hoping for Gillian Anderson to knock on the door). Things have been quiet on www.andrewshearer.com because I had some other work that I wanted to get on with and it coincided with wanting to temporarily step back from performing for a while; perhaps more significantly, during the summer evenings, I just love to cycle to a pub in the countryside, have a couple of pints and read the day's newspaper in the evening sun (though even that can turn out a bit awkward when you discover that the idiot driver that almost knocked you off your bike and at whom you've just shouted your best expletives is a family member (:-)). I'm grateful for the great summer that we had in the UK that made that possible more often than in previous years.

Anyway all good things come to an end. The days are getting shorter now (winter draws on ' boom boom!) and it's time to start playing again. The idea was to start by easing in gently with a gig (at The Lyndhurst) at the start of October but Reading band, Chalk Angels have invited me to play at their EP Launch this Saturday (21st September) at The College Arms in Reading (details here). I've seen Chalk Angels twice now and both of their performances have been energetic, enjoyable and memorable. However I think Saturday is going to be extra special as not only is there the excitement of the EP launch but also because we have Jakabo on the bill. I've mentioned Jakabo many times on the website (do a search). commenting on what a great blues band I think they are with their powerful performances of classic blues / soul and original songs.

As a pleasant bonus to playing on Saturday, inbetween playing two tracks from the Chalk Angels' EP on Sunday Joanne Kelly played Something Wild on her Strawberry Sundae Radio Show. As Andrew Holdcroft (the guitarist on Something Wild) said: "It was only meant to be a demo, I didn't expect it to be played on the radio!" Ever the perfectionist.

So, who'd have thought I'd have gone from UFOs to Chalk Angels' EP Launch? In fairness, Saturday is likely to be out of this world and blow not a few people's minds.

Hope you had as good a summer as I did.

Andrew